An €800,000 government fund is set to aid students gain hands-on working experience in the industry of the future, Parliamentary Secretary for Financial Services Silvio Schembri has announced.
When he met participating students, Schembri reiterated government's commitment towards exposing students to a work place experience.
"This year the government has once again increased the allocated budget by 30% to the tune of €800,000 for the Student Placement Programme," he said.
"Tthis is proof of the government's commitment towards giving an opportunity to our youths to have hands-on working experience in the industry of the future. This preparation can only be achieved, however, if we are able to build on the academic prowess of our youth and provide them with opportunities such as these."
Schembri said that Malta's human capital played a major role in convincing new companies to invest in Malta.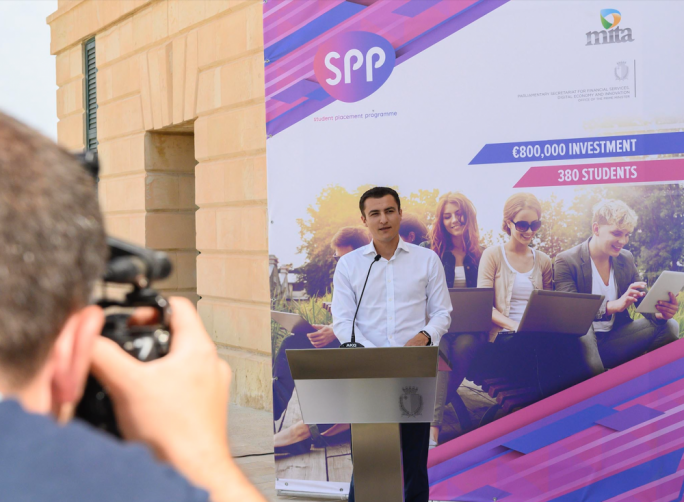 "The number of companies requiring employees having knowledge of emerging technologies such as blockchain, artificial intelligence, internet of things, and virtual reality is always on the increase," he told the participants. "This is an opportunity for you all and focusing your studies in these areas will surely help have a successful career."
MITA's Head of Strategy and Business, Emmanuel Darmanin, said that in the last five years, MITA - together with employer partners - has been able to offer over 1,600 placements in all sectors through this programme. These placements have provided meaningful exposure to ICT and ICT-using industry.
Over 380 students had found placements this year alone.
"In line with the various initiatives related to emerging technologies, this year's event has been created with a direct focus on some of these technologies," he said.
Darmanin also encouraged students to make use of MITA's New Emerging Technologies Lab and experience the practical use of these technologies.
Students took part in workshops related to virtual reality, artificial intelligence and blockchain.
During the event, Schembri also announced that the government''s official blockchain even, Delta Summit, will be rebranded to Government Tech Week and will be held between 30 September and 6 October and will cover different areas such as AI, IOT, Blockchain, Esports, Game Development and Space.
More information can be obtained on https://delta-summit.com/