Malta's strong trade efforts for expansion in Ghana lead to five new MOUs
Diplomatic and trade relations between Malta and Ghana were strengthened through a trade mission, where 27 Maltese companies and local institutions, including Malta Enterprise, MCAST and the University of Malta participated
Diplomatic and trade relations between Malta and Ghana were strengthened through a trade mission led by Minister for the Economy, Investment and Small Businesses Silvio Schembri in Ghana, with the participation of 27 Maltese companies and local institutions, including Malta Enterprise, MCAST and the University of Malta.
The aim of this trade mission sustains the government's internationalisation strategy to assist Maltese companies in expanding to outer shores and exploring other continents besides Europe, with Ghana as the main point of entry into the West African region.
During the second Ghana-Malta Business Forum held in Accra and organised by TradeMalta, Schembri said that Malta has placed Ghana at the top of its list for new efforts to develop further trade with the African continent.
This decision is central within the Malta-Africa 2020-2025 Partnership Strategy, launched earlier by this government with the aim of creating trade opportunities for both countries, whilst bringing its people closer together.
The cooperation and collaboration between Ghana and Malta was sealed by the signing of five Memorandum of Understandings presided by Schembri together with Ghanaian Minister for Trade and Industry Alan Kyerematen.
"This is a great achievement which is a testimonial of the strong relationship between the two nations as natural partners in enhancing the development of both countries. Geography may define us, history brings us closer, our philosophy unites us," Schembri said.
"Besides the help that is being provided as a government for local companies to expand their operations in African markets through this trade mission, the signing of these five MOUs signal Malta's will to develop trade with Ghana. I reiterate my government's commitment to enhancing the exportation of high-quality Maltese products and services, as well as to working closely with Ghanaian authorities, to help them attract new foreign investment together with Malta-based companies and authorities."
Schembri discussed the possibility of an education and entrepreneurship programme for irregular Ghanaian migrants in Malta, whereby, after following this programme, these persons would return to Ghana lawfully and be in a better position to start new economic activity in their homeland.
This would give Ghana nationals a new opportunity for a better future and, at the same, helping the country to generate more economic activity through new business start-ups and trade.
The Ghanaian Minister responsible for Trade and Industry, Alan Kyerematen, described these meetings as very positive and said that the strategic partnership with Malta should see Malta as Ghana's gateway to Europe, and likewise Ghana as a gateway for Malta to Africa.
Highlighting the trust and friendship developed between the two nations, Kyerematen described the excellent diplomatic relations Ghana has with Malta. "Malta has a strategic location to help Ghana, now part of the African Free Trade Area, to reach Europe," he added.
Schembri lead other bilateral meetings with Minister for Aviation Kofi Adda and Minister for Business Development Ibrahim Mohammed Awal. The potential for joint projects in various sectors was at the top of the agenda, with the government of Ghana discussing important areas of trade in line with its strategy for further economic growth.
On the other hand, Malta is willing to help Malta-based companies offer their products and services in key projects in Ghana, whilst also possibly acting as an export gateway to the European and American markets.
Both parties discussed the enhancing of international connectivity to Ghana via a new route operated directly from Malta by Air Malta. Minister Schembri said that such an initiative is key to boosting trade between Ghana and the rest of the European Union. However, this requires significant investment which requires cooperation from both countries.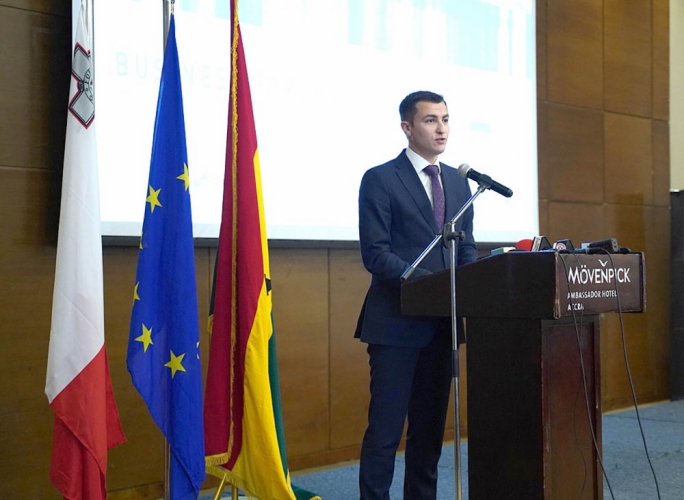 Five MOUs signed
The first of the five Memorandum of Understandings was signed between Malta Enterprise and Impact Hub Accra, a leading social entrepreneurship and innovation centre in Ghana leading inclusive growth of start-ups through various incubator and accelerator programs.
This MOU will pave the way for an exchange programme of start-ups and entrepreneurs from both parties. Collaboration shall take place in these potential sectors; healthcare, food technologies, aviation, creative economies and light industry. The aim of the programme is to recognise and support entrepreneurial activities of mutual interest and help them become opportunities for both countries.
Malta Enterprise CEO Kurt Farrugia said that Malta is providing a gateway of opportunities to start-ups, entrepreneurs and new talent to develop ideas and grow in the Euro Med region, forming an ideal hub in Malta.
"Signing an MOU with Impact Hub Accra is only the beginning of a collaboration that would see concrete investment moving from Europe to Africa and vice-versa," he said.
Another Memorandum of Understanding was signed between the Malta Medicines Authority and the Ghana Standards Authority. Anthony Seraccino Inglott of the Malta Medicines Authority said the mutual areas of cooperation between the MMA and the Ghana Standards Authority foresee the development of industrial cooperation between pharmaceutical bodies of participating countries and the eventual exchange of experience and knowledge.
"The Authority is offering its support to the pharmaceutical sector in Ghana by providing training to obtain EU Good Manufacturing Practices certification. The agreement is also intended to promote collaboration on capacity building with regards to pharmaceutical products registration, pharmaceutical quality control and pharmacovigilance," he said.
A third Memorandum of Understanding was signed between MCAST and Accra Technical University. Stephen Vella, MCAST General Manager for MG2I, said that this is a new experience for MCAST because it will be extending its internationalization strategy.
"MCAST will be offering the opportunity to Ghanaian students to obtain an EU-recognised qualification, which will open possibilities to further their studies and entrepreneurial skills in Ghana and also Europe. We are also open to discuss future collaboration with other institutions in Ghana who show interest in extending their VET training provision through MCAST," he said.
Malta-based AquaBiotech Group signed two other memorandums of understanding with Ghanaian counterparts for business development in aquaculture and fisheries.
This second trade mission to Ghana is being organised by TradeMalta, led by CEO Anton Buttigieg, with the full support of Malta's diplomatic office in Ghana, represented by High Commissioner Jean Claude Galea Mallia.