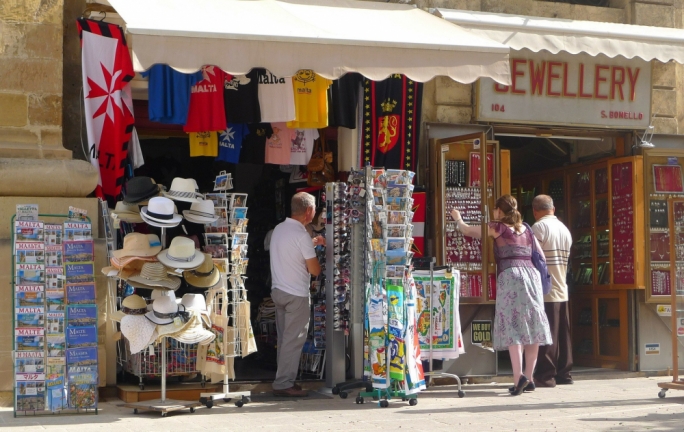 Major operators in Malta's retail sector are showing serious concern regarding a decrease in sales this year, retailers' union head Abigail Mamo said.
Mamo, CEO of the GRTU's Chamber of SMEs, told BusinessToday that, for some retailers, the difference in sales compared to 2018 has already reached six-digit figures.
"January started slow and the retailers were hoping for things to improve, but instead sales continued to go down significantly, April being the worst month to date," Mamo said.
"Overall they report that sales are down significantly compared to last year."
She said that whilst this situation was not a picture of all economic sectors in Malta, retail was one of the major sectors in the country's economic activity.
"This situation is also in line with similar trends reported by other industries including tourist sectors and also the rental market," she said.
Asked about the matter, Paul Fenech, president of Valletta's Republic Street Business Community, confirmed that there has been a slowdown in retail trade.
"There has been a slowdown, and of course we always expect to see improvements over the previous year."
In terms of what could be behind this, Fenech suggested that the uncertainty created in the British tourist market – still one of the major sources of tourism for Malta – due to Brexit, could be affecting UK citizens' confidence and in turn having a negative impact on the number of tourists visiting the island and how much they spent.
Regarding the role of Maltese buyers in the drop in trade volumes, Fenech said online shopping was likely playing a role.
"But tourism should make up for the detrimental effect of online shopping," he said, "So this could be something which should be looked into further when trying to understand what is behind the retail trade slowdown."
Eurostat figures show retail trade volume up over 2018
The sentiment amongst retailers does not appear to reflect figures issued by Eurostat on Monday, however.
While the figures show relatively small drops in retail trade in February and March this year, according to Eurostat, retail trade volume is up compared to last year.
The figures indicate that Malta's volume of retail trade dropped by 0.5% in March 2019 compared to February. In February, retail trade decreased by 0.1% compared to January this year.
The first month of 2019, however, saw an increase in retail trade of 0.9% over December 2018.
Moreover, retail trade volume were up by 4.6%, 4.5% and 1.3% in in January, February and March respectively this year compared to the same months in 2018.
Asked about this discrepancy between figures and traders' sentiments, Mamo said that the statistics did not accurately portray the situation on the ground.
She added that retailers' views reflected a year on year assessment of trade volumes.
Property market settling down
When it comes to the property market – which in the past years has been characterised by a sharp increase in prices – the "craze" within the sector is starting to settle down, the boss of the developers' lobby said.
Asked by BusinessToday about the current situation in the property arena, Malta Developers' Association president Sandro Chetcuti said that the sector was starting to calm down, but that this was an "extremely healthy" situation for developers with the necessary expertise and knowledge of trends.
"The prices couldn't continue to rise much higher," he said. "Recently, the property craze in the market seems to be easing somewhat."
"While previously you could sell an apartment very quickly – if it went on the market today, you'd have practically already sold it yesterday, so to speak – now it might take a bit longer, since prospective buyers are taking their time to look into what is available and to review the large choice of properties on the market," he said.
In terms of construction, Chetcuti said that several new developers had entered the market that weren't familiar with the sector and whose level of professional skills were lacking.
Such newcomers did not always have the experience to understand the market trends and to take stock of how the sector was now cooling down, he said.
When it came to MDA members, however, these have the required experience to understand the market, and are therefore not experiencing any issues, Chetcuti said.
In an interview with BusinessToday last month, real estate broker Janice Azzopardi, founder of Sensara Malta, echoed the same feelings as Chetcuti, saying that, since the start of 2019, property marked prices appear to have started to stabilise.
"The years 2015 to 2018 saw prices rise practically every month. Developers would call me from one month to the other saying that a particular property had risen in cost by €10,000 or €20,000," Azzopardi said.
"As from the start of 2019, I feel that prices have 'calmed down', so to speak, although they still remain high," she added.