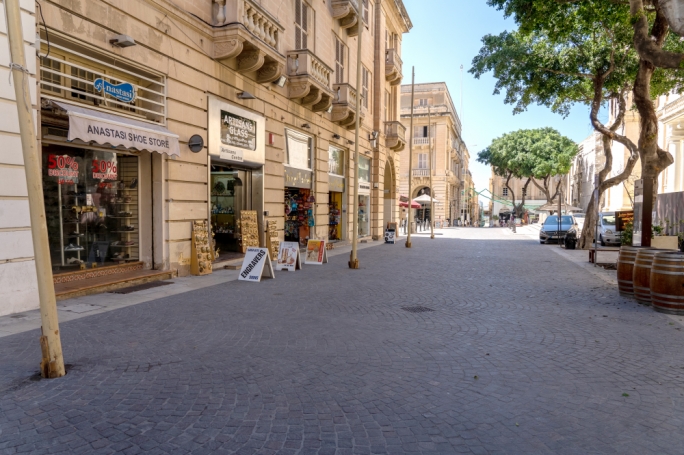 Valletta retailers, still grappling with vastly reduced sales brought about by the COVID-19 pandemic, are divided as to how to go about revitalising business and attracting shoppers to the capital, BusinessToday has learned.
A number of retailers have complained that the business community in Valletta needs to realise that doing things "the old way" is no longer tenable and that the mentality among many owners, employees - as well as some associations - needs to change.
Speaking to this newspaper on condition of anonymity, one retailer who operates a luxury brand clothing outlet, said that many outlets had pulled down their shutters and closed shop, pulling the plug on businesses that, in some cases, had been in operation for decades.
And although such premises were being snatched up by investors, it was difficult to see the Valletta business community being profitable once again in the foreseeable future.
Tourist visits in Valletta are down 80 per cent when compared to previous years, and the capital's business community is feeling the loss of tourists, even day tourists from cruise liners.
"This is affecting all businesses in Valletta, be they retailers, coffee shops, restaurants, bars or attractions," the source said.
"And although some proposals have been put forward, there is no consensus yet on how to attract new business to Valletta."
One such proposal is to introduce late night shopping in Valletta.
Because contrary to what happens at Malta's most visited shopping centres, including Tigne, Sliema and Qormi - and across major European capitals - shops in Valletta tend to close promptly at 7pm, barring some pubs and restaurants.
One vocal proponent of late-night shopping is Valletta's mayor, Alfred Zammit, who has been advocating for change ever since being elected to the post a year ago.
"Late night shopping would lure Maltese shoppers back to Valletta, at least in the evenings after work," he told BusinessToday.
"And our other businesses, including catering establishments, bars and pubs, would keep those shoppers in the capital for even longer."
Zammit has proposed a trial period over which Valletta outlets would open from 10am to 10pm every Friday.
"I am not suggesting introducing late night shopping every day, because that might not be doable straight away, but I firmly believe that Maltese shoppers would choose Valletta over other shopping destinations if they were given the opportunity to shop comfortably after work," he said.
Such a scheme would require the approval and backing of all business in the capital, as well as the associations and organisations representing.
And unfortunately, that tacit agreement is what's currently missing.
"I have spoken about this to the Chamber of SMEs but I have found little support," Zammit said. "This, coupled with the endemic short-sightedness of many businessmen, means that we appear destined to remain stuck in this mess."
Some business owners appear to be stuck on the notion of having to pay overtime to their staff to cover late night shopping hours, while others have welcomed the idea.
"It is imperative to remember that Valletta needs to sell itself as a brand," one retailer told BusinessToday.
"The capital city has no anchor outlets - like a ZARA, Debenham's or Decathlon - that would attract shoppers daily and create a steady footfall."
And it is difficult to foresee this changing, since Valletta lacks properties with large enough footprints to attract such anchor brands. That is why many say Valletta should be the brand itself, with all its retail and commercial offering, its cultural heritage and its history.
"Other obstacles in the way to success are things like having deliveries made in Valletta at 2pm on two days of the week, instead of being restricted to before 9.30am," Zammit said.
And many have also complained on the haphazard way some shops choose to display their merchandise outside their shops, including on Republic Street, making for a very unfavourable first impression of the area.