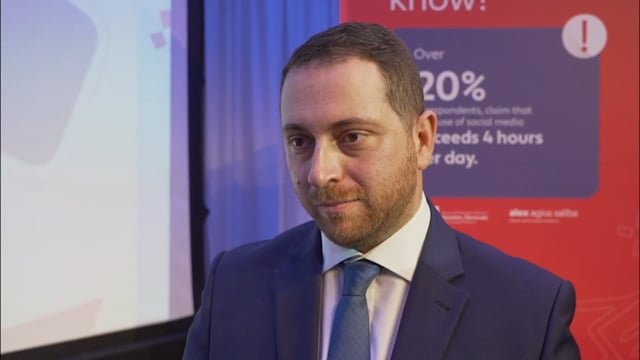 A proposal aimed at introducing the concept of employees' right to disconnect will be presented to Cabinet in the coming weeks, BusinessToday has learned.
Carmelo Abela, minister within the Office of the Prime Minister, confirmed that he was waiting for some final documentation before presenting the proposal. It would then be up to Cabinet to decide if the proposal is to be pursued further.
"If the proposal is given the go-ahead, we will then launch a consultation exercise to get feedback from all social partners," he said. "The drawing up and introduction of such a bill is a long, drawn-out process that will involve all interested parties."
News that the government was working on introducing right to disconnect legislation drew criticism by the Malta Employers Association, which is insisting that Malta should wait until a parallel process currently underway at EU level is concluded.
"This does not make any sense," MEA president Joseph Farrugia told BusinessToday. "Why is the Maltese government insisting on introducing this legislation as quickly as possible when the EU is still working on its directive?"
But Abela insisted that what he would be presenting Cabinet would be a proposal about introducing the concept of the right to disconnect into Maltese legislation.
"We are not trying to speed the process up or to steamroll through social partners," he said. "And of course, should there be developments at EU level in the meantime, we will definitely be looking to adapt our proposal accordingly."
Abela said that initial feedback he had received thus far had been possible. He also insisted that the proposal and any subsequent formal legislation would definitely not affect any employees who currently received so-called 'disturbance allowance' to be on-call after their normal working hours.
"This concept is aimed at protecting those employees who do not enjoy such an allowance and who are constantly having their down time, and even leave, interrupted by their employers," Abela said. "Any existing fair arrangements, such as the disturbance allowance, will not be affected."
In the end, he said, common sense will prevail.
EU legislation approved
Labour MEP Alex Agius Saliba, rapporteur for the European Parliament's committee on employment and social affairs on the right to disconnnect, said that Malta does not need to wait for the concept to be transposed by the EU, because the proposed legislation had already been approved.
Agius Saliba told BusinessToday it would in fact be useless for Malta to waste time waiting for the European Union, when the legislation, including key principles and minimum requirements, had already been discussed.
Agius Saliba explained that Malta had a great opportunity because, at EU level, there is already "fully-fledged and developed piece of legislation that the European Parliament has already approved."
"Ultimately, when we are speaking about the right to disconnect, it's not about granting new rights to our workers," he said. "This is a fundamental right which is enshrined in our law under the working time directive, also under national legislation which is granting daily and weekly rest periods," he said.
The MEA had claimed that Malta risked being used as a guinea pig by other EU countries if it were to forge ahead with its own legislation without waiting for a final common EU policy.
"I think we first need to determine if there is actially a problem to solve," Farrugia said. "Because as long as safeguards remain in place, employees are already adeuately protected."
He said that employees and position of responsibility and mamagement already included allowances for after-hour work and communication, as needed. He acknowledged that some abuse might occur occasionally and agreed this should be attended to.
Consultation
Farrugia said the MEA was already contributing to the debate on the EU's proposed directive and had even held talks to this effect with the Employment Relations Board. The association, he said, wanted to be sure that any new law, while protecting the employees, does not end up negatively impacting current working concepts such as allowances or certain professions where 'switching off' is not only impractical, but uncalled for.
Agius Saliba said that he agreed with the MEA when it came to discussions with social partners. "I don't think this should be imposed on social partners, but I think as a country we have an MEP who was spearheading the exercise in the European Parliament, and minister Abela has already confirmed that the government would be taking action and kick-starting discussions with social partners. I don't think its an issue of making our workers guinea pigs," he said.
"We have the legislation there that is already approved, the commission has already committed that it would not be disregarded and something is going to happen. So yes, I will continue to push for it, so that our country and our workers be given the right to disconnect as soon as possible."
In fact, on 21 January, the European Parliament voted to adopt a right-to-disconnect report, in turn calling on the European Commission to propose a law than enables those working digitally to disconnect outside their working hours.